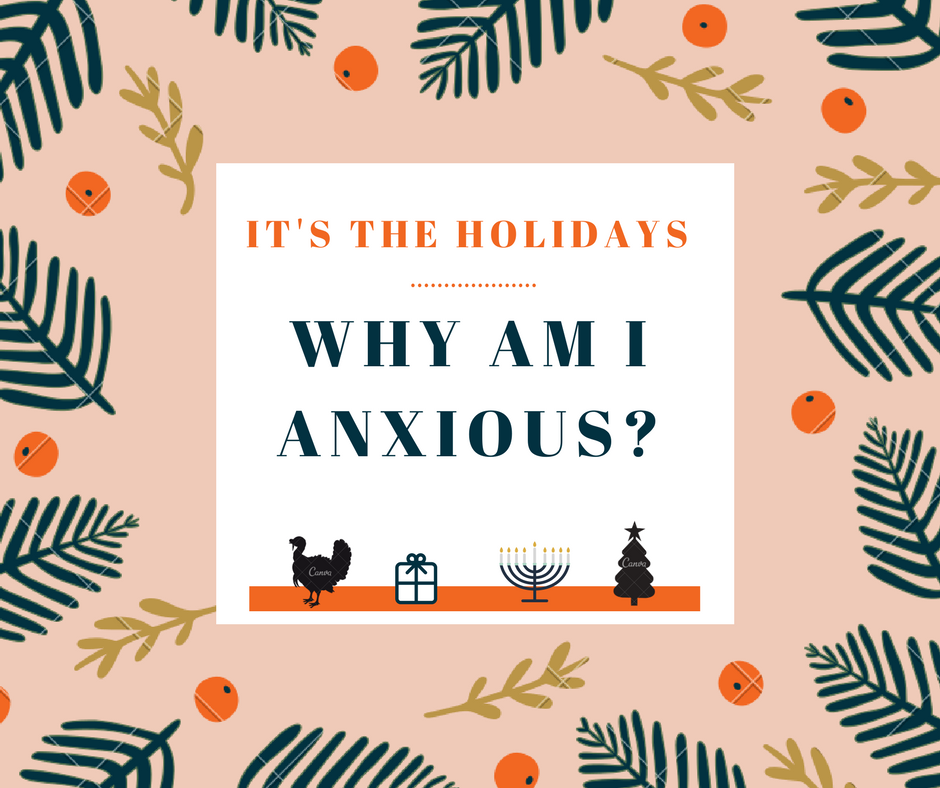 Every year around this time my family looks forward to Thanksgiving, Christmas, and New Year's, celebrating time with family and friends, the birth of Christ, and the hope associated with the beginning of a new year.
While November through January are often filled with enjoyable events, many people are surprised by the amount of anxiety they experience during this time. If we examine closely what occurs in this holiday season, perhaps we should actually anticipate higher levels of anxiety. Let's break it down:
"Holiday parties are enjoyable times spent with family and friends. I should be enjoying them."
I may not enjoy company parties, where I'm forced to be act friendly with colleagues I may not like in an awkward situation.
Similarly if I don't like my own family of origin, or my in-laws, it may not be a joyful time.
Even if I'm spending time with people I like, if it's a potluck I have to cook, or if I'm hosting, I have to clean the house.
"I get to travel and see my parents I love, yet I feel stressed out."
Travel during Thanksgiving is one of the peak travel times, so many others are also on the road, in the airports and train stations, causing delays, overbooked flights and traffic jams
Preparing to travel (and perhaps getting one's family, especially young children) can be onerous in of itself.
Interaction with family can lead to old arguments and ongoing feuds.
"I like making the house look festive, but I'm already feeling tired when I think about it."
The list of chores to complete to transform a house can be daunting:

Clean the house
Put away Halloween decorations
Pull out the winter decorations, and put them up
Put up Christmas lights
Buy a tree, decorate the tree (after making room for the tree!)
"It's fun to watch my kids open presents, but I dread the shopping."
It's not only the process of thinking about what appropriate gifts for people, but it's finding them and getting them.
The financial stressors around this time can induce anxiety.

How much should I spend?
How much can I spend?

Do I need to buy a gift for my boss? Best friend's daughter?
Will I get a bonus this year? Should I count on that when I look at my budget?
These are just a few quick examples of common occurrences during the holidays. While they may help explain our stress and anxiety, we also can start to address them:
While cooking and cleaning in anticipation for company is not always enjoyable, is it worth it to have my friends over?
Can I set a reasonable budget and work within that for gifts?
If I'm traveling, can I accept that it will be a busy time, I'm choosing to travel, and try to enjoy it as much as I can rather than getting angry?
When we start to get anxious and nervous, it helps to examine why we are feeling this way, observe our thoughts, and adjust our behaviors and thoughts as best we can. This can help us enjoy the food and time with family rather than dread it.